"TV/media or video games are bad for your kids". Is this true or is it just a myth? What effect does TV have on your kid? Let us discover together!
Parents often have a busy schedule trying to juggle between work, home, and everything in between – trying to achieve that work-life balance. Yes, yes… admit it- sometimes parents try to keep their kids busy by occupying them with TV or video games just to get a few minutes to finish up tasks and errands around the house. Let's be completely transparent here – no, we are not pointing a finger at you; many of us are extremely guilty of the same "crime". Or is it a crime?
Studies reveal that parental guidance on TV should start from an early age. You heard it right. Even if your kids are a few months old, TV can have a dramatic impact on them.
We often wonder if TV/media/video games have a positive effect on our kids. Think about this – do our kids learn from TV, especially if they watch educational movies or programs? The answer lies in what kids watch on a consistent basis. Are the programs kids watch educational or good for them to digest? What about kids who spend hours playing video games? Many of these games do contain substantial amounts of violence and inappropriate language and kids are exposed to them daily. Have we talked about the TV ads? That's a whole other conversation.
Let us be honest. TV/video games have negative effect on our kids. How? Check this out:
Impacts kid's brain development. When TV replaces reading, less thinking occurs. Hence, it affects school performance. Less reading may lead to drop outs in the future.
Encourages sedentary lifestyle, which may lead to obesity.
Decreases social skills. Kids do not want to play with other kids or even go outdoor. They feel content playing with their video games.
Disturbs sleep leading to concentration impairment.
Leads to aggressive behavior due to violence on TV.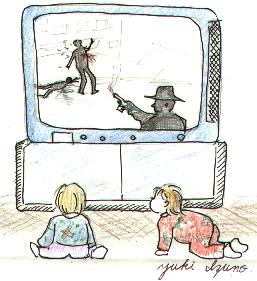 Whether we like it or not, technology is advancing, and watching TV has become part of the everyday activities in many households. How do we tackle this and deal with all this information? As parents and community members, we have to be smart about decisions we make for kids and how much we enable them to explore and 'grow up.' So, what can we do and how do we alleviate some of these issues.
Here are some helpful tips:
Turn off the TV during meals and enjoy family time.
No TV in kids' bedrooms.
Watch TV together. Control what they watch and enjoy each other's presence!
Limit the hours. Interact more with your kids: talk and play with them more often.
Encourage kids to do outdoor activities such as sports. We do not want our kids to end up being a couch potato.
Read a book. This will have a tremendous impact on your kid. You can visit the library or have kids check out books from their schools. Our organization also has a great literacy program implemented from the Reach Out and Read platform, where each kid will receive a book after every well-child visit. How amazing is that? Parents can read to their kids and work to improve their kids' literacy levels and strengthen their parental bonds.
Every kid is their parent's pride and joy. Let us provide a healthy environment; let us read, play, and talk with our kids. They are our future!!
Image Sources: