Honey, I strapped the kids!
If you think that going through pregnancy is the toughest part of parenthood, well, think again. The real challenge starts when we deal with safely handling car seats. Many of us can relate to this picture, right!?? So, you better buckle up! One interesting adventure is on the way!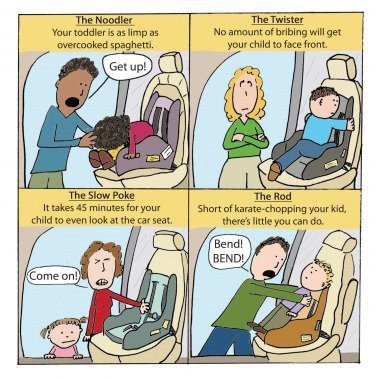 Sometimes it is confusing when it comes to choosing a good car seat and knowing how to install it, but first, parents should know the rules related to car seats.
Did you know that a new car seat law has been implemented in California as of January 2017? Here are the facts:
Children ages 2 and younger should ride in a rear-facing car seat.
Exceptions apply if your child weighs 40 pounds or more or is 40 inches or taller.
Child should be secured in a way that complies with the specified height and weight limits set by the car seat manufacturer.
Kids under the age of 8 must still be secured in a booster or a car seat, whereas 8-year-olds or a height of 4'9'' must be secured in a safety belt. Passengers 16 years and older should follow California's Mandatory Seat Belt law. Yes, your teenagers need to put on their seatbelts, too!
California Highway Patrol (CHP) provides some great videos regarding the new car seat law according to age group. Click here to watch. (https://www.chp.ca.gov/programs-services/programs/child-safety-seats/child-safety-seat-videos).
If you are not sure how to properly install a car seat, do not worry! Your local CPH can be of help. Check out this link to find a local area office (https://www.chp.ca.gov/find-an-office).
If you live in the Los Angeles area, you can contact Children's Hospital to schedule an appointment for a car seat inspection. Don't need your car seat anymore? You can donate it to the Children's Hospital every Friday of the month between 10:00 a.m. and 3:00 p.m.