"THANK YOU" to all our sponsors!
It's that time of the year again and we are well underway with planning our 3rd Annual Back to School Health & Wellness Event. This year our event is taking place on Saturday, August 18th at the Pacific Park & Community Center in Glendale, California. In celebration of National Health Center Week, we look forward to celebrating our "Super Heroes" – all the children in the communities we serve.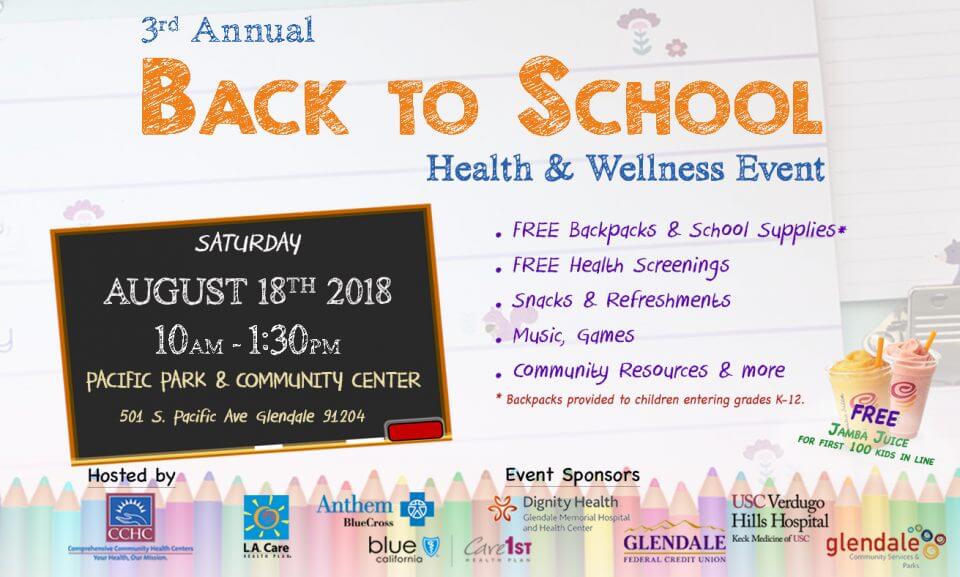 We are beyond grateful of the support we have received to date from our partners and sponsors. It is with their support that we are able to provide over 1000 children with free backpacks filled with school supplies to get the school year started right!
We would like to thank our Diamond sponsor, LA Care Health Plan for their support and donation to help us provide education and resources to support their Women's Health initiative for this year's initiative.
We would also like to extend our gratitude to the following sponsors for their financial contributions and in kind donations: BlueShield of California, Care 1st Health Plan, Anthem Blue Cross, Dignity Health of Glendale Memorial Hospital, Federal Credit Union and KIND.
At the event, in addition to giving out free backpacks to children entering K to 12th grade, free health screenings, health education resources, social service programs and other resources will be provided. Children will have a day full of fun games and activities, free popsicles, snacks and refreshments, and much more.
The event is FREE for the public.
When: Saturday, August 18th, 2018
Where: Pacific Park & Community Center.
For more information, contact us at 818-630-2286 or email us at outreach@cchccenters.org.